Library Hack #2: Displays & Things from the Ceiling
We all do what we can to decorate our libraries to make them seem welcoming to our students, but one place exists that we often neglect: the ceiling.
Using the ceiling to decorate things can help you add color and interest, add movement in a space, or even delineate different library areas without the use of walls or shelves that can block sightlines.
You know those expensive hook and rail systems to hang things from your ceiling? Well, they are expensive and out of my price range, and they probably are for you too. If I'm going to spend that much money on my library, it'll be on something my kids want, not decorations. Here's a hack to help you to hang anything from your ceiling for less than $1 per item.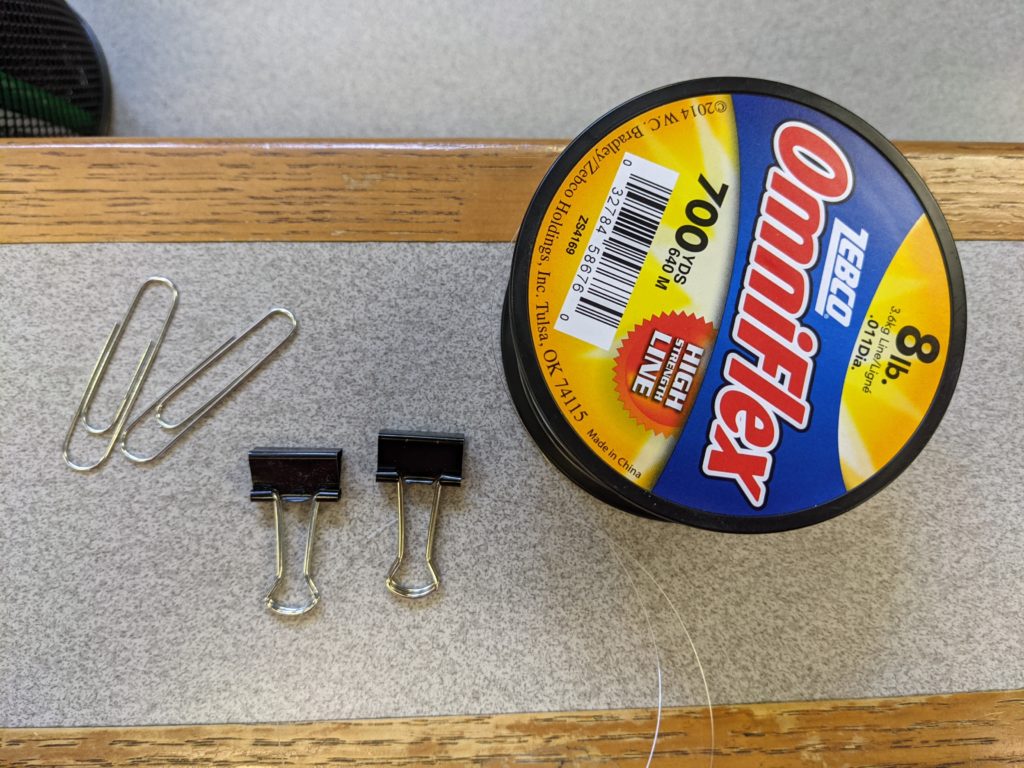 Supplies:
Fishing line
Large paper clips
Small binder clips
Directions:
Decide how far down from the ceiling you want your item to hang.
Cut the fishing line appropriately. I would recommend cutting it longer than you think you'll need because you can always shorten it.
Tie one end of the fishing line around a loop of the large paper clip.
If you have extra fishing line, wrap it around the middle of the large paper clip.
Slide the paper clip with the fishing line between the metal braces and your ceiling tiles. You may have to raise one of your ceiling tiles gently to do so.
Move the small binder clip to the open position (wings up).
Tie the other end of the fishing line to the small binder clip by pulling it through both wings.
You should now have a piece of fishing line hanging with a small binder clip from the ceiling.
Take the open binder clip and place your sign/item in there.
You should now have a sign/item hanging from your ceiling.
You may need to adjust the fishing line on the paper clip to make sure the sign/item is straight.
You can also forgo the binder clip and just string an item from the other end of the fishing line that is not attached to the paper clip. I have done this with colorful pom-pom balls to brighten up the space.
It all looks cool because everything looks like it's floating due to the clear fishing line, and when the air vents are on, everything moves.