Movin' on Up: Packing Up the Library
The library at Westerville South High School has seen some changes over the years.
When the library first opened in 1960, it was the size of a classroom. Soon it was expanded to the large space it currently is, but someone decided it was a good idea to fill it with wall-to-wall shelves — ideal for a large collection, less than ideal for a high school space.
Eventually, it became the big open space I inherited with bookcases along the walls and seating for 50+ students and staff. I am lucky to have such a large and open space. After working in several setups of library spaces, that I know for sure.
But now it's time for another chapter in the library's story.
The Why
The building at South has been growing and changing these past couple of years. We added a new gym, an entirely new wing, and are currently renovating the wings that were added to the original building in the 90s.
I am fortunate to be one of the spaces that is getting renovated this summer. Not everything in the plan is what I would do as a librarian, but it is what it is and the students, staff, and myself will do everything to continue the homey environment that we've worked hard to create. (Did you notice I said we? Because it's not my library. See my post on that here).
I got notice earlier this year that I would have to be all packed up and ready to vacate on the teacher's last day of school (May 26). Because it is a full renovation, I could not leave anything in here – nothing on the shelves, nothing in the storage area, nothing in my office or other areas – zilch. Zero. Nada. And just thinking about that stressed me out.
South is both an AP and IB school, which means from the middle of April (state testing) to the end of May, we are testing in the library. (See my post about programming when you can't use the library here). That makes it extremely difficult to pack up everything in the library – the sound of packing tape ripping off the roll isn't exactly the best test environment.
The Waiting Game
I wanted to keep the library open to checking out books and co-teaching classes for as long as I possibly could. So when there was an hour or two here or there in which we weren't testing, I would open the library up to students.
I wanted students to have access to the books for as long as possible, especially because so many of the English teachers here have them complete an independent reading project at the end of the year. That, and I just can't stand for students not to have access to books.
So I waited to pack.
Looking back, it is a toss up of whether I should have started packing sooner and shut down checking out books earlier or if I should have just done what I did. As I write this with only four days left of school, I will be honest and say that I am freaking out. When I came to South, I did some purging and I've weeded over the years (especially non-fiction), but you never think about how much stuff you have until you go to pack it all up.
I set my book due date earlier than I ever have – nine school days before the end of the year. And I am thinking now that might have been too late in the month of May, especially with all the testing. I'm running check-out reports sent via email to students and their guardians (if they have an email listed) and that is getting some back, but not enough. I'm guilty of letting a student have as long as they want with a book because I recognize that everyone reads at a different pace, so I am lax with due dates. (Note to self: be better at due dates/renewals/and sending overdue notices next year).
Order of Packing
What did I pack first?
To be honest, I packed the nonfiction section first. Many of my students do not read non-fiction so I thought it would be safe to pack those. (I was right). I then packed Biographies and Memoirs. (Yes, I know they are non-fiction, but we keep them separated out at South because the English teachers do memoir and biography studies.) I then left packing the books alone for a couple of weeks.
Just in the last two weeks have I delved in and begun packing fiction. I started with the least checked-out section here – Historical Fiction. Then just this week (the last full week of school), I packed up Horror and Mystery. Then Science Fiction. Next up were Fantasy, Manga, Graphic Novels, and Realistic Fiction – my most popular sections. Because there is still so much to do, I will be coming in on Sunday to work. Shout out to my editor and best friend, Jen, for helping me pack!
My goal on Sunday (before the last three days of school occur) is to get all of the books packed, and my storage room (mostly) packed. Then the last few days of school there is no testing so I will be packing a lot of odds and ends to pack, mostly the circulation desk (which I am leaving for last because everyone uses it), random posters, and wall hangings too long to go into a box, and all the things that I have to stand on a super tall ladder for. (Really not looking forward to that!)
The storage room I left for last because I cannot keep an eye on the kids when I am in there and want to make sure everyone is safe in the space.
So what do I do when I've packed up each genre and kids are still returning books? I take and divide them by genre, alphabetize them, and put them in their own box. This way, I can have them ready to easily insert back into their respective genre once I unpack.
Never Alone
I know I mentioned my best friend helping me, but she can't help every day – she has a job too! But there is another group of people that I can depend on – my library workers!
I wanted to make sure every book was in the correct (ish) place before packing them all up. So I had students who are super detailed-orientated shelf read for me. You may call it something else, but shelf reading to me is going through each shelf to make sure everything is in order by author and then title. It's annoying and tiresome, but it desperately needed to be done. Once the kids did a shelf reading of a genre, I then began to pack it up.
At the end of the process, I was so tired from packing, that I also asked for student help taping the boxes closed and then putting the packing label on the box (more about this later). Why I didn't think of that sooner, I don't know. But it was a HUGE help especially once I got to graphic novels and manga.
I had kids roll posters up and secure them with rubber bands. I also have them pack the weeded books I used for crafts and blackout poetry, and the magazines I keep for crafts and projects as well. I am also the houser of all the yearbooks dating back to the 1920s and have multiple copies of each year, so I had the students pack those up as well. It may seem like small things, but having those trusted students in the storage room packing so I could be in the main part of the library whilst it was open or we were testing was a huge help to me.
Lists and Organization
So I am OCD (literally; and if you know me, it's not a surprise) and a big part of the job of packing (for me) was making a spreadsheet of what was in each box so that when I go to unpack this fall, I know what is in each box and can decide right away if it's a box that I must unpack or a box I can wait to unpack.
Ideally, I'd get everything unpacked and remake the new space homey (like the former space was) before I open it to everyone, but I know how construction works. I'll be lucky if I'm allowed back in the space more than a week before school opens.
I know I'll need to prioritize what I unpack first. For instance, all the books are getting unpacked first, but my office stuff may not make it out of boxes until November. I know (and believe) that students need books in their hands. I also put in a big order at the end of the school year that hasn't been processed yet so that I can immediately start with new books for the kids.
The spreadsheet has several different pages:
Nonfiction
Fiction
Storage Room
Decorations
Office
Makerspace
General Library
Then came the packing slips that I made. I wanted to make sure that I could include what area it was packed in and the corresponding box number that was on the spreadsheet. Again, this way I know what to unpack first. I made the packing slips super quick in Canva, printed them off on 8.5 x 11 paper and made sure all the paper packing slips were on colored paper. It was so much easier for me to tell the custodians who were moving all the stuff that anything with colored paper on it needed to be moved.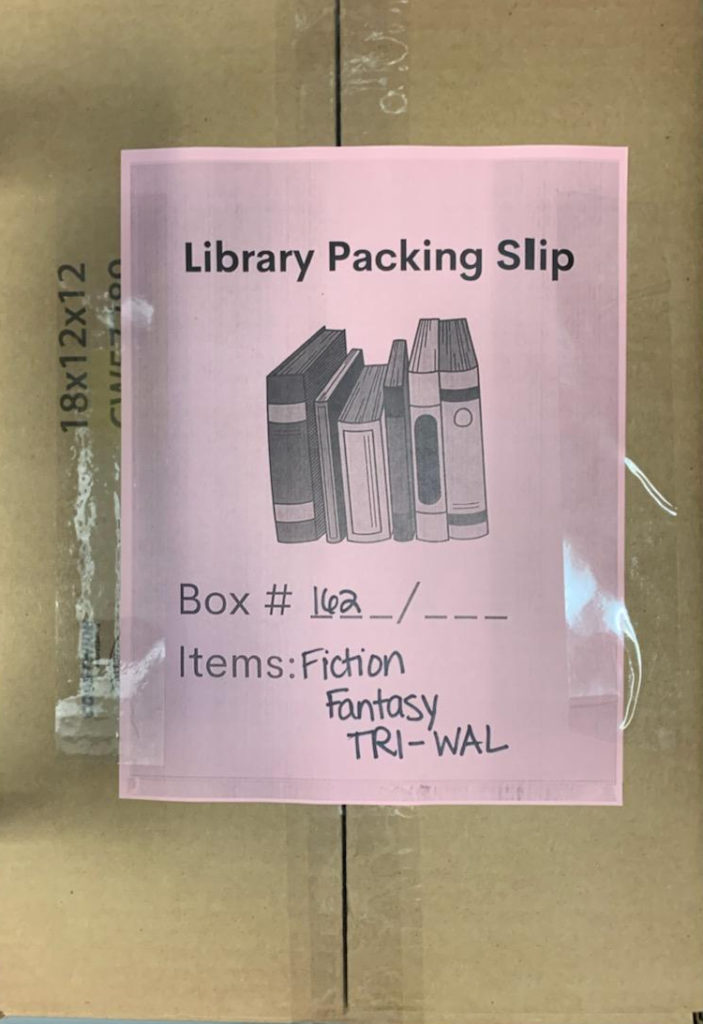 The packing slip has room for me to put what area of the library the boxed items are from, and the number of the box that corresponds to the spreadsheet. I included an area for the number of total boxes from that area. As I packed, I found this not useful because of the spreadsheet. I can just look at the spreadsheet and see how many boxes I have in that area. So I started the XX out of XX box numbers with nonfiction and stopped them after nonfiction was packed. Another lesson learned. However, if you do not keep a spreadsheet, I can see why having the number of boxes in that area would be helpful to you.
Tips, Tricks, and Takeaways
As I mentioned, I boxed one genre at a time. It may have taken more boxes, but I boxed them all spine up so I can literally open the box and put them on the shelves without having to put them in order again. When it comes time for unpacking, this makes it so easy to just set on the shelves and I plan to have my library workers help me with that.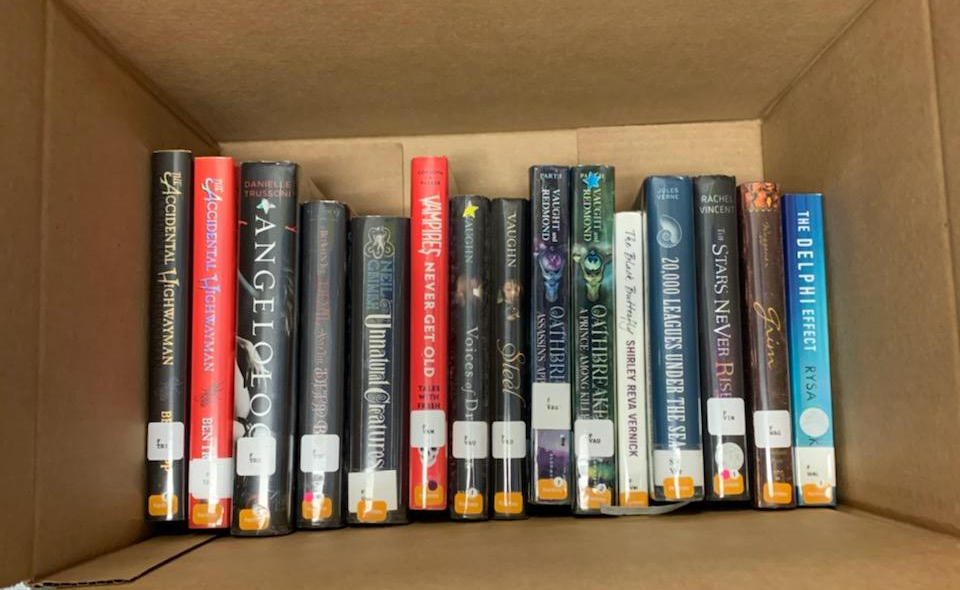 And because of the box sizes, each one equates to about a little over one singular bookshelf, so I know approximately how many shelves I need for each genre.
As for the colored paper, I also made a sign (in Google Docs this time) that said "Please keep from library renovations. Please save." These signs went on all the furniture that I planned to bring into the new space. That too made all the custodians happy because I literally just said, whatever has a piece of colored paper on it goes to storage. They really liked that and commented on how easy and helpful it was.
So where did I get all this colored paper? Well, I started in on my own brightly colored stash. That was a mistake because (silly me) I thought I would have enough paper. I packed over 700 boxes plus the miscellaneous items that could not fit into boxes! I ran out of paper quickly and was trying to decide how much of my own money I wanted to spend on more paper when it struck me – we have colored paper in the copier room that no one uses because it's old and pastel! Duh! Use that! So I did and I totally regret using my own stash. Take that as a lesson, my friends. Find old paper in your copier room, storage closets, etc.
I should have started earlier packing the things behind the scenes (storage room, office, etc.) because it might have saved me from coming in on a Sunday to work (or maybe not).
Once I am all unpacked next year, I promise I will write a blog post about unpacking the library and also the new space. I'm excited to show you all!